Parksville Residences - LOCATION
Available through Pag-Ibig, ParksVille Residences is really good option for buyers who are looking for affordable housing just outside of Manila. Just 20 mins away from Baclaran and Mall of Asia, it is located at the center of major infrastructure developments and big projects in Kawit, Cavite. Coming from Manila, area is fastest reached through Coastal Road and Cavite Expressway. ParksVille is right beside other big projects such as Antel and Lancaster Estates. This means buyers of ParksVille also enjoys most of what this other projects have such as:
Transport Terminal - already started operation with daily bus trips to Lawton and Monumento passing through Roxas Blvd.In the future, it will also have trips to Malanday passing through EDSA.
Church of the Holy Family - just 500m away
St Edward Integrated School - LaSalle Managed
Kalayaan Hospital - 100m away
Police Station - accross the street
Wet and dry market and commercial areas

ParksVille Residences offer quality but affordable townhouses which can come in complete and semi-complete finshes. Buyers have the following options:
Audrey-Basic - 2 Storey Townhouse with 2BR, 1 TnB
Audrey-Expanded - 2 Storey Townhouse with 3BR, 2 TnB
Chesca-Basic - 2 Storey Townhouse with 2BR, 1 TnB
Chesca-Expanded - 2 Storey Townhouse with 2BR, 1 TnB
Just 20 mins from Baclaran or Mall of Asia through recently opened CaviteEx (Cavite-Manila Expressway).
Near SM Bacoor and SM Rosario
Near other major projects like Antel and Lancaster Estates
Road though ParksVille is currently being transformed into a major highway to Batangas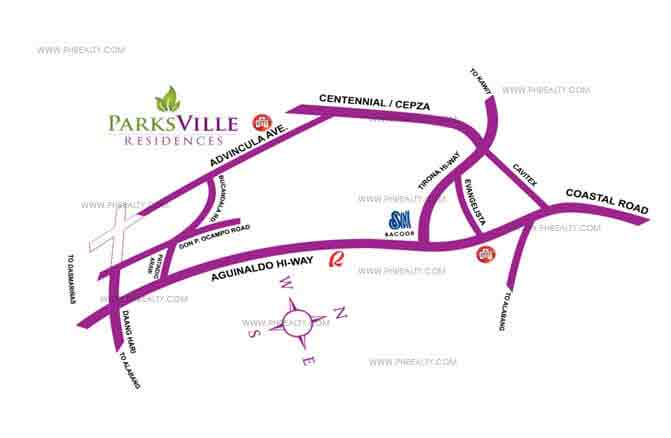 As the fastest growing province in the Philippines, Cavite is perhaps the ideal location for developments like Parksville Residences as they provide housing to the an ever increasing workforce without the need for long commutes. Being located in Kawit also has its advantages though as many facilities that residents in Parksville Residences may require or desire, are close at hand and often only within a kilometer or two. Those facilities include:

Malls
Central - 0.65 km
Filscan - 0.71 km
Masaji Spa - 0.73 km
L RR - 0.78 km
M2 Vulcanizing Shop - 1.00 km

Restaurants
Kambingan Eatery - 0.38 km
Country Classic Grill - 0.40 km
Waypoint Grill - 0.41 km
OMP Carinderia - 0.62 km
Cafe Moraco - 0.66 km

Schools
Unida Nehemiah Christian Academy - 1.08 km
Panamitan Elementary School - 1.55 km
Mary Motesory School - 1.61 km
PotolSta. Isabel Elementary School - 1.68 km
Novaleta Elementary School - 1.69 km

Hospitals
Kawit Kalayaan Hospital - 0.94 km

Not forgetting of course that the SM Mall of Asia is 20 minutes away and Metro Manila only 45kms distant.
The fact that residents do not have a long commute to work is obviously a good thing but knowing that the children do not have a long commute to school either, is even better. Weekend shopping trips, a meal out or a trip to a hospital for a check-up also includes a very short travel time and those are the type of things that can reduce stress in any household life, improving a whole family's lifestyle, each and every day.
Unfortunately there are always times when a family does have to venture further afield, perhaps to visit family or take a vacation but for when they do, Parksville Residences are also conveniently located close to some major roads which will ensure that those trips or the journeys at least, are as short and quick as possible. Some of the major roads that afford Parksville Residences residents easy access are the Coastal Road and the Cavite Expressway but the road through Parksville is soon to be a major road also, providing an easier route to Batangas.
As Cavite have many tourist attractions, a resident at Parksville Residences can enjoy the convenience of being a local tourist and taking advantage of the attractions which are within easy reach, such as hiking or climbing Mount Pico De Loro and its monolith, visiting old churches or playing on one of the eight world-class golf courses in the province. Obviously as a destination for tourists there is a wide selection of resorts and restaurants that cater to culinary delights of those tourists both foreign and local and so feasting on some international culinary delight is often a pleasant treat for local families.
The nearby port also has ferries but it is the international airport which will take families further afield and even that is within less than an hour's drive.